R4M Mask UVC sterilizer, Dual UVC light with USB cable for masks
Fast and effective sterilization-This sterilization box with 2 ultraviolet rays uses ultraviolet disinfection, which is harmless to the human body and provides a high sterilization rate of up to 99.9%, which can effectively kill bacteria and viruses on the smartphone in 5 minutes And keep you and your children away from bacteria.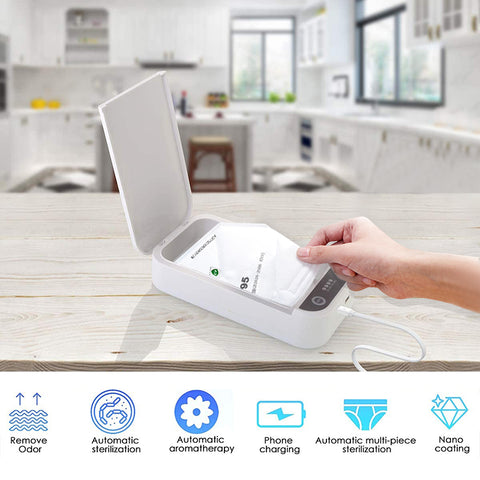 An ideal gift for yourself and anyone who cares about hygiene.
Aromatherapy-Aromatherapy sponge slot in the corner allows you to put a few drops of perfume or essential oil in it, plug in the power and press the aromatherapy button to eliminate the odor and fill the disinfectant with a pleasant aroma.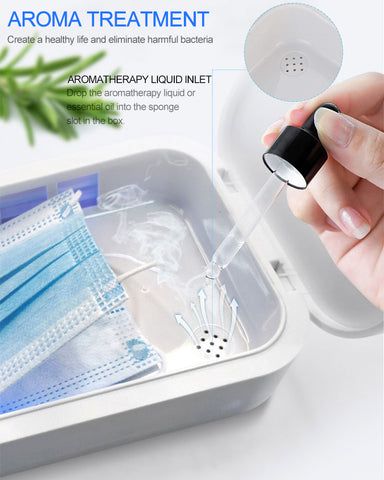 Fit Most Mobile Phones
Broad Compatibility-This sterilization box can hold a 6.5-inch smartphone. In addition to mobile phones, it can disinfect masks, keys, jewelry, cards, makeup brushes and other small items.

Item Name: Portable UV Sterilizer Box
Fit up to 6.5 inch smartphone
Rated Voltage: DC 5V
Input Current: 1-2A
UV Light Power: 2x 1W
Max. Working Power: 9W
UV Wave Length: 253.7nm
Material: Plastic + Electronic Components
Color: White
Product Outer Size: 218x 123 x 53mm
Inner Size: 180 x 100 x 22mm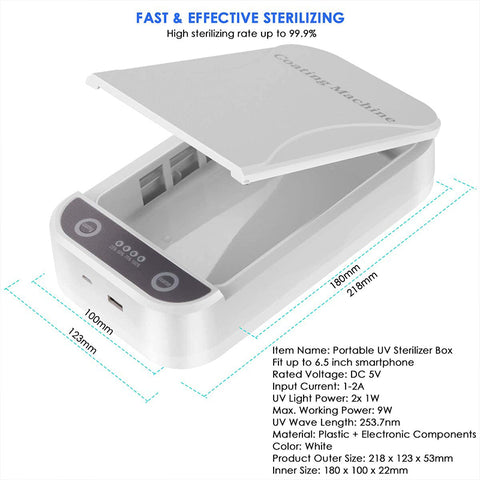 Easy to carry and use-just two buttons for easy operation, just plug it into a USB port on your PC, power bank or USB charger for disinfection. Compact and lightweight, it is easy to carry and can be used at home, office or even on the go.